Over the last few months, I have written about landscapers favorite plants. These have included posts about Trees, Shrubs, Hydrangeas, and some well known and some not so well known Perennials.
Back in January in my first post of the New Year, I also wrote about considering goals for your landscape that you may or may not have considered before in What do you really want?
Today, we will start a Front yard landscape design using landscaper's favorites as well some to meet another goal.
To answer the question I ended my last post with, I will do this design for my…………………….old house.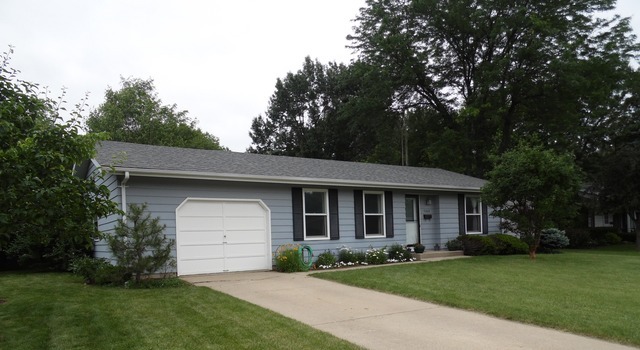 I lived there 15 years and never put much landscaping effort into my front yard. All my energy (and money) went into my private area (the backyard).
Sure I planted a Paperbark maple by the front door for winter interest as I left the house each morning and yes I did plant a few other shrubs and perennials.
That was about it though.
The Old Front Yard Finally Gets a Design!
In that first post of the year, I wrote about several possible goals for your landscape.
Today we consider just a few for this front yard landscape design. These include:
Providing a beautiful setting
Attracting wildlife like birds and butterflies
Increase your homes property value and curb appeal
Believe it or not, that is more then most people plan for. Most people omit the attracting wildlife from their FRONT YARD designs at least. This is a goal more commonly seen in backyards (such as my Backyard for Bird Watchers).
Besides including these goals, we also want to include a majority of our plants to be from our Landscaper's favorites series of posts. These plants are generally easy care plants that are readily available.
So lets begin.
1st things 1st
The first thing we are going to do to that front yard is rip out that crappy sidewalk to the front door.
We will then double that driveway from one car to two cars.
We will do this because, as I can tell you from living there, one car driveways are a royal pain in the keaster!
WOW it's so much better already, but I do suppose we need a walk to the front door. Lets ditch the straight line and get a nice curvy concrete paver walk.
Walk to the front Door is added
Concrete pavers are not nearly as expensive as flagstone or bluestone mostly because they are cheaper than those materials. They are designed to be dry laid as opposed to mortared onto a concrete base which also reduces their cost.
We will add a nice soldier course around the edge of the paver using a different paver color or style. This adds very little to the cost, but makes them look better then if they were all the same material.
Trees are added to our front yard design using landscaper's favorites
We need to soften the corners our our house. To do this we will add a couple multi stem trees/larger shrubs to obscure the straight line from the roof to the ground and also to break up the straight line of the driveway addition.
So what trees or shrubs should we put there?
We want one that helps us to:
Provide a beautiful scene year around
Attracting wildlife like birds and butterflies
Block the view of the straight lines of the corner of our house and the driveway both now and as it matures.
If we look back at our post on landscapers favorite trees, we find a good candidate in the Autumn Brilliance Service Berry (Amelanchier × grandiflora 'Autumn Brilliance').
It looks great in four seasons, stays small enough to continue blocking the corner of the house, and attracts birds with its attractive and tasty berries.
Here is how it will look on our plan:
Structuring our Design by defining Bedlines
Now lets take the position of those trees and add some curvy beds to define where we want the rest of our plants.
Since this is a Front yard, I am less inclined to define the grass space the positive space (see my post on positive and negative space in the garden) but instead will comply with neighborhood norms and use the lawn as the default area I will cut the rest of the landscaping out of.
We will use a curvilinear design theme to lay out our bed lines. See my post on Curvilinear landscape design for some guidance on doing this.
While we are at it, lets add a light post near the driveway to help light the walkway and the front yard during the evening.
On next week's post, we will continue this design by adding all the shrubs and begin adding some perennials. I hope to see you then!